Prevail Women's Incontinence Pads PV-915/1 (39 Pads)
Save

0

%
Save

0

%
Original price
$23.99 NZD
-
Original price
$23.99 NZD
Original price
$23.99 NZD
Product description
Prevail Bladder Control Pads are body-shaped pad inserts with cloth-like outer fabric designed for stress and urge incontinence. Featuring the Target Acquisition Zone and the Blue Stay-Dry Strip, liquid is quickly wicked and locked away from the skin for ultimate skin dryness, leakage protection and odor control Full length adhesive strip Individually Wrapped Cloth-Like Outer Fabric Advanced Zoning System.
Why choose Prevail Bladder Control Pads?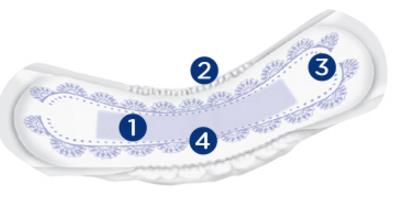 Discreet Leakage Protection:

 

Incontinence Pads

 

provide well targeted protection from their thinner dual layer absorbency core
Soft Side Shields: Add protection and comfort
Odor Guard Technology: Neutralizes odor maintaining discretion even for an extended period of time
QUICK WICK Layer: Rapidly pulls moisture from skin for comfort in use
Ideal for light and unpredictable leakage associated with stress incontinence
Comfortable, soft and easy to use
Designed for light leakage protection so it does not get in the way of active lifestyle
Individually wrapped for discreteness and convenience
Reliable protection that the user can trust
Provide just the right protection whenever needed
Prevail Odor Guard Technology - Helps reduce odor

Odor protection is critical to achieving normalcy of life quality. Prevail products feature Odor Guard technology. Combined with a super absorbent polymer for dual protection, Odor Guard is proven to reduce the total amount of odor-causing ammonia formed during and after use. This odor-reducing detail improves air quality in long-term care settings and creates a friendlier environment that ultimately influences staff, resident and family satisfaction.
Superior odor control when and where it matters

 

– When urine mixes with air, the naturally occurring bacteria breaks it down to form a strong odor. Prevail effectively controls odor formation when and where it happens.

Helps prevent odors before they are formed

 

– Prevail with Odor Guard reduces the total ammonia that is formed within the incontinence product.

Helps absorb any odor that may still get generated

 

– The super absorbent polymer effectively absorbs any odor that may still be generated before urine degrades into the open environment.
MaxSoft Technology — Super Quick and Super Soft

It is not easy to combine performance-grade leakage protection with skin-friendly softness and comfort. Prevail products feature the proprietary QUICK WICK layer with MaxSoft Technologythat provides advanced softness with rapid liquid acquisition speed to deliver optimal product performance. These seemingly small details can improve skin health by keeping skin drier and reducing leakage—in a way that feels soothingly soft to the skin.
Soft touch

 

– Changing the funnel pattern, size, shape, arrangement and reducing height makes the fabric feel softer. Smaller openings create less friction and are less noticeable to the touch.

Greater and faster absorbency

 

– Increasing the number of funnels creates a more permeable film. The unique arrangement of the funnels maintains the integrity and stability of the acquisition layer's areas for absorption.

Individually wrapped

Made in USA

Pack of 39 Pads